Thank you to the simple living blog Little Eco Footprints for the inspiration for this post. I love reading about your actions, especially your latest post Saved from the bin where you mentioned the Australian food rescue organisations that save food before it makes it into the bin - Oz Harvest, Foodbank, FareShare, SecondBite. Amazing that blog author, Tricia, then saw an Oz Harvest van pulling up at the Aldi Supermarket across the road from her - that was karma!

It's a topic that can make you feel so powerless on the world scale, but what really matters is each of our individual households. Apparently, we throw out about one quarter of the food we buy. That can't be hard to change.

The Guardian in the UK has an insightful feature on 'Freegans' and food waste. This article profiles Freegan campaigner Tristram Stuart and this is an eye-opening photo gallery of foods that are thrown away by stores or left to rot. The below photo shows the result of Marks & Spencer's requirement for its sandwich supplier to discard four slices from each loaf: the crusts and the first slice at either end. This means 13,000 slices of fresh bread are discarded every day from a single factory...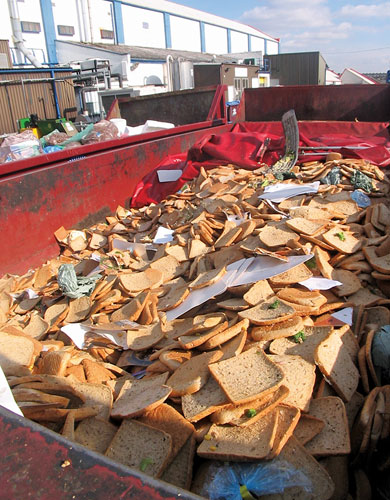 How much do you throw away in one week?


The Guardian asked three people to record what they threw away in one week. I am going to try to keep a diary this week and report back. That is scary, but it is incentive to be careful about what we buy. Would anyone else like to keep a record and share it with us in a week or so?